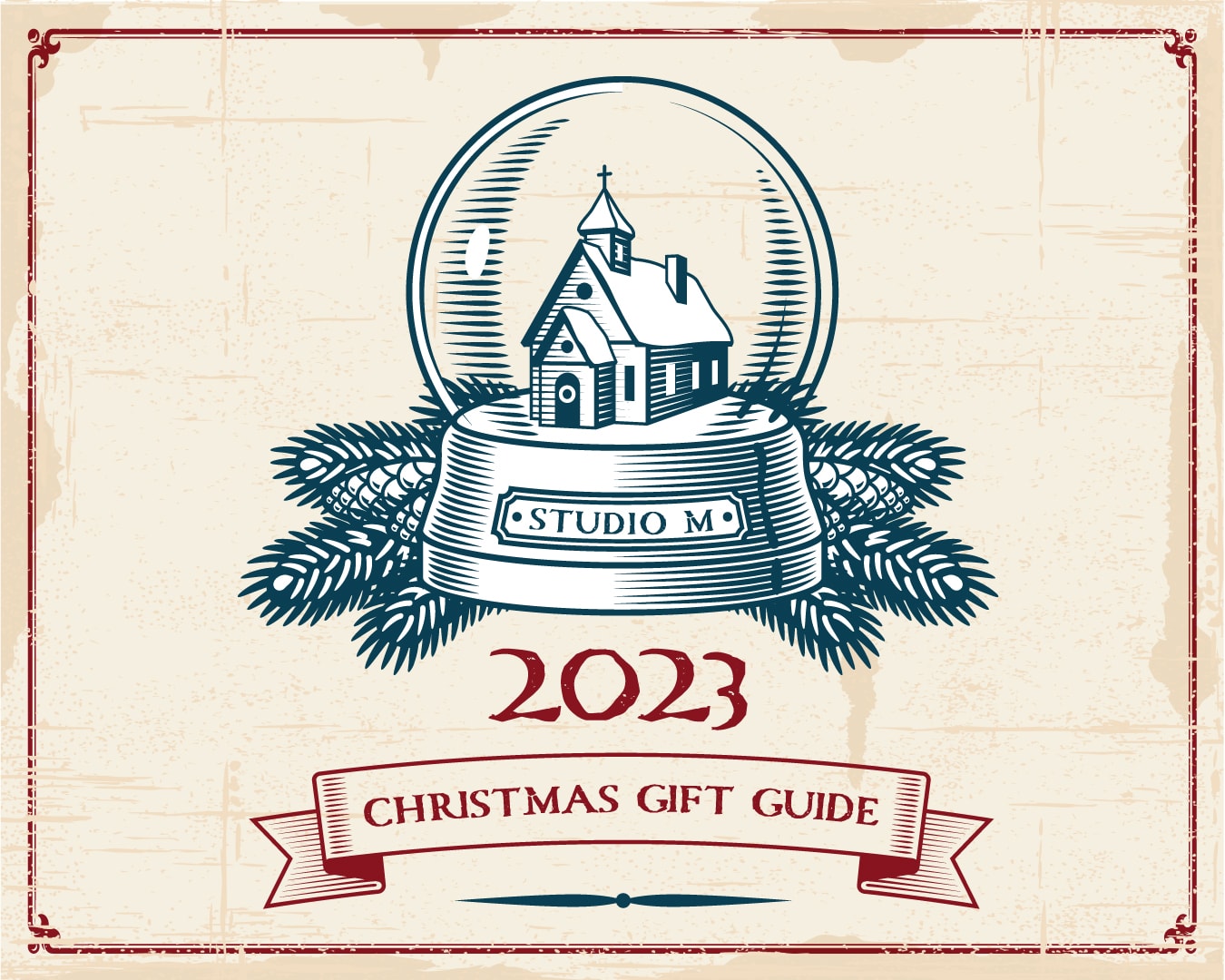 30 Oct

It's yule time at Studio M. Here's our Inspired by Design 2023 Christmas gift guide!
It's that time of year again!
Are you shopping for a person who has everything, a hard-to-please family member, or a picky loved one? Check out our annual gift guide for unique design-inspired gifts and experiences.
Ice Skating in Central Park
https://www.centralpark.com/things-to-do/sports/ice-skating/
There's nothing quite like ice skating in the park on a crisp winter day in New York City. The air is chilly, but the atmosphere is anything but cold. The sound of blades gliding over the ice mixes with laughter and conversation, creating a lively and festive ambiance. The twinkling lights and holiday decorations add to the magic of the experience. My family, friends, and I loved our ice skating adventure in NYC. So grab your skates, bundle up, and let's hit the ice for a playful and fun afternoon in the heart of the city!
"Wonderland" by Annie Liebowitz
Speaking of winter wonderlands, this gift will surely delight and inspire the fan of her celebrity portraits or someone simply interested in exploring a world of fantasy and imagination in her new book.
Annie Leibovitz's new book "Wonderland" is a collection of photographs exploring the themes of imagination, fantasy, and escapism. The book, released in October 2020, features a mix of celebrity portraits, imaginative landscapes, and staged scenes that transport the viewer to a world of wonder.
Leibovitz's photographs in "Wonderland" are inspired by the classic tale of "Alice in Wonderland" and its themes of curiosity, adventure, and transformation. The book is divided into three sections: "Fall," "Winter," and "Spring," each representing a different stage of the story and the changing of the seasons.
The photographs in "Wonderland" depart from Leibovitz's typical style, as they are heavily manipulated and staged. The images are full of bright colors, surreal landscapes, and fantastical elements, creating a sense of whimsy and enchantment. In addition to the staged scenes, the book also features portraits of celebrities such as Taylor Swift, Janelle Monáe, and RuPaul, all of whom are portrayed in the fantastical settings created by Leibovitz.
In an interview with Vanity Fair, Leibovitz said that "Wonderland" was a labor of love and that she had worked on the project for several years. She explained that the book allowed her to explore a different side of her creativity and push the boundaries of what is possible in photography.
"Wonderland" is a stunning collection of photographs that showcases Leibovitz's incredible talent and creativity. Whether you are a fan of her celebrity portraits or simply interested in exploring a world of fantasy and imagination, this book will surely delight and inspire.
The Nativity Tree at the MET Museum
https://www.metmuseum.org/exhibitions/listings/2020/christmas-tree 
The MET Museum in New York has a stunning annual Christmas tree display, and one of its most popular trees is the Nativity Tree. The tree is adorned with hundreds of hand-painted and handcrafted angels, cherubs, and nativity characters, each unique and made using traditional techniques. The Nativity Tree is part of the museum's annual Christmas Tree and Neapolitan Baroque Crèche display, a holiday tradition at the MET since 1957. The tree and crèche display is considered one of the most beloved holiday traditions in New York City and attracts visitors from all over the world.
ADVENT CALENDAR VOYAGE EXTRAORDINAIRE
Buy it at Baobab Collection: $850
https://us.baobabcollection.com
After witnessing the glory of the MET Museum Nativity Tree, you will be inspired by the Le Voyage Extraordinaire, an imaginary inner journey accessed through the subtle notes of a fragrance. As if by magic and as light as a balloon, you'll fly to destinations we love, whose memories are locked away in a decorated mini candle. A twelve-destination, 24 miniature travel candle adventure in an exclusive box decorated with hot-air balloons.
Baobab is a brand at the forefront of creating olfactory and aesthetic objects. Drawing inspiration from African landscapes, the Belgian brand's interior perfumes create grace in your living space.
Baobab scented candles are an exotic, luxurious indulgence featuring fruity notes like orange, grapefruit, and pineapple with floral notes like jasmine, rose, and violet and woody notes like sandalwood, cedarwood, and patchouli. Create a serene atmosphere in any space.
Baobab candles are made with natural ingredients like soy wax, beeswax, or coconut wax, which make them a healthier and eco-friendly alternative to traditional paraffin wax candles. Available in a variety of sizes and shapes, from small votives to large pillars.
Baobab candles are known for their long burn times, ranging from 60 to 200 hours, depending on the size and type of candle. 
Renningers Antiques & Collectors Extravaganza
For more info: https://renningers.net/mt-dora/
November 17-19, 2023 in Mt. Dora, Florida
If you're looking for a one-of-a-kind gift, you've got to try Renningers, a famous open-air market in Mount Dora, Florida, offering a wide range of products, including antiques, collectibles, and vintage items. The show is held three times a year, typically in November, January, and February, and attracts vendors and buyers worldwide. Renningers is known for its diverse mix of merchandise and allows dealers and collectors from all over the country to connect and exchange knowledge and expertise. It's a great place to find unique pieces and network with like-minded individuals. You'll be doing a lot of walking, so wear comfortable shoes. I bring a collapsible wagon to carry larger purchases and a large shoulder bag for smaller items.
Jeff Leatham
https://www.jeffleathamflowers.com
Looking for a floral arrangement for a special someone on the extravagant side? 
Looking for the perfect gift for a hostess? Consider a floral arrangement by Jeff Leatham, a world-renowned floral designer based in New York City. He has become famous for his unique and innovative floral arrangements, which have been featured in events and publications all worldwide. Jeff has worked with some of the most recognized names in the fashion, entertainment, and hospitality industries, including the Four Seasons Hotel, Oprah Winfrey, and the Kardashian family. He has also served as the Artistic Director for the Four Seasons Hotel George V in Paris, where he created stunning floral installations that attracted visitors from around the globe. Jeff's designs are known for their bold use of color, unexpected combinations of flowers and materials, and contemporary, sculptural forms. He has been dubbed the "Rock Star of Floral Design" and has won numerous awards for his work. Jeff's passion for flowers began at an early age when he worked in his family's garden in Utah. He went on to study design in college and landed his first job as a floral designer at the Four Seasons Hotel in Beverly Hills. From there, his career took off, and he has become one of the most sought-after floral designers in the world.
Cheese of the Month Club
Buy it at: https://www.murrayscheese.com/cheese-clubs 
Cost: From $56.67 per month
If you are looking for a gift for the foodie or cheese lover who assembles a cheese board for every social gathering or casual evening at home, a monthly subscription that sends you artisan cheeses sounds like a dream. Cheese subscription boxes are very real, though, and a delicious and easy way to expand your palate—whether you can name every type of cheese in the grocery store or not.
Food & Wine Magazine Best Overall Pick: Murray's Cheese
Specialty: High-quality cheeses and a wide selection to choose from
Subscription Frequency: Three-month, six-month, or 12-month
Why We Chose It: Renowned New York City cheese shop Murray's Cheese gives customers nationwide access to its impressive selection through its variety of home subscription boxes.
Pros
Variety of high-quality artisanal cheeses
A mix of classic and unusual cheeses
Cons
Murray's Cheese has five monthly subscriptions to choose from. The renowned New York City cheese shop makes cheeses and hand-selects products from international and domestic vendors. The most popular memberships send you three to four different cheeses each month.
The Classic Cheese of the Month Club is great for aspiring turophiles, while the Cheesemonger's Picks subscription features bold flavors and textures that appeal to more adventurous cheese lovers. Murray's even offers a Mac and Cheese of the Month membership with tastes like buffalo chicken and French onion.
Baking cookies with JC Bakesmiths
Ah, the joy of baking cookies with family during Christmas time! The warm aroma of sugar and butter fills the air, and there's flour everywhere, making the kitchen look like a winter wonderland. But let's be real; it's not just about baking cookies. It's about the memories, the laughter, the inevitable kitchen mishaps, and the family bonding time that makes it all worth it. And, of course, it's about sneaking a few bites of raw cookie dough when no one is looking because, let's face it, that's the best part. So, grab your aprons, preheat the oven, and let the holiday baking begin!
Here's the recipe provided by our friends at JC Bakesmith:
Cookie:
1 cup salted butter
1 cup sugar
1 egg
1 tbsp. vanilla extract
2 tsp. baking powder
3 cups flour
Glaze:
2 cups powdered sugar
1 tsp. vanilla extract
3-4 tbsp. milk
(optional) food coloring
Cream butter and sugar in a stand mixer until completely combined.
Add vanilla and egg.
Add baking powder and mix again.
Add 3 cups of flour, 1 cup at a time, and mix in between. The dough should be firm but not crumbly. If it seems dry, add a little milk and mix again.
Roll out a portion of the dough about 3/8" thick, and cut out shapes with your favorite cookie cutters.
Bake at 350 degrees for about 6-10 minutes until they brown.
While the cookies are baking, make the glaze by combining all ingredients in a small bowl.
Let the cookies cool completely, and then glaze! 
You can swap the vanilla extract in the cookie dough and the glaze for any flavor you like! We like to use lemon in the summer and peppermint for Christmas. Almond extract is always a hit. Just cut the amount in half. 
LaCrosse™ Premium Travel Pillow Throw Set
Buy it at The Company Store: $149+
https://www.thecompanystore.com
For the frequent flyers in your life, the comfy and convenient LaCrosse™ Travel Throw & Pillow Set is the perfect companion for chilly flights or long-haul road trips. The travel-sized pillow and quilted throw are sewn of 295-thread count premium cotton twill and filled with lofty, hypoallergenic, RDS-certified down and feathers. Both pieces feature a zipper to fold and fit neatly into the included travel bag, which features a VELCRO® closure and luggage strap for easy portability.
We hope this collection of gifts and experiences will bring you and your loved ones yuletide joy and memories that last a lifetime.