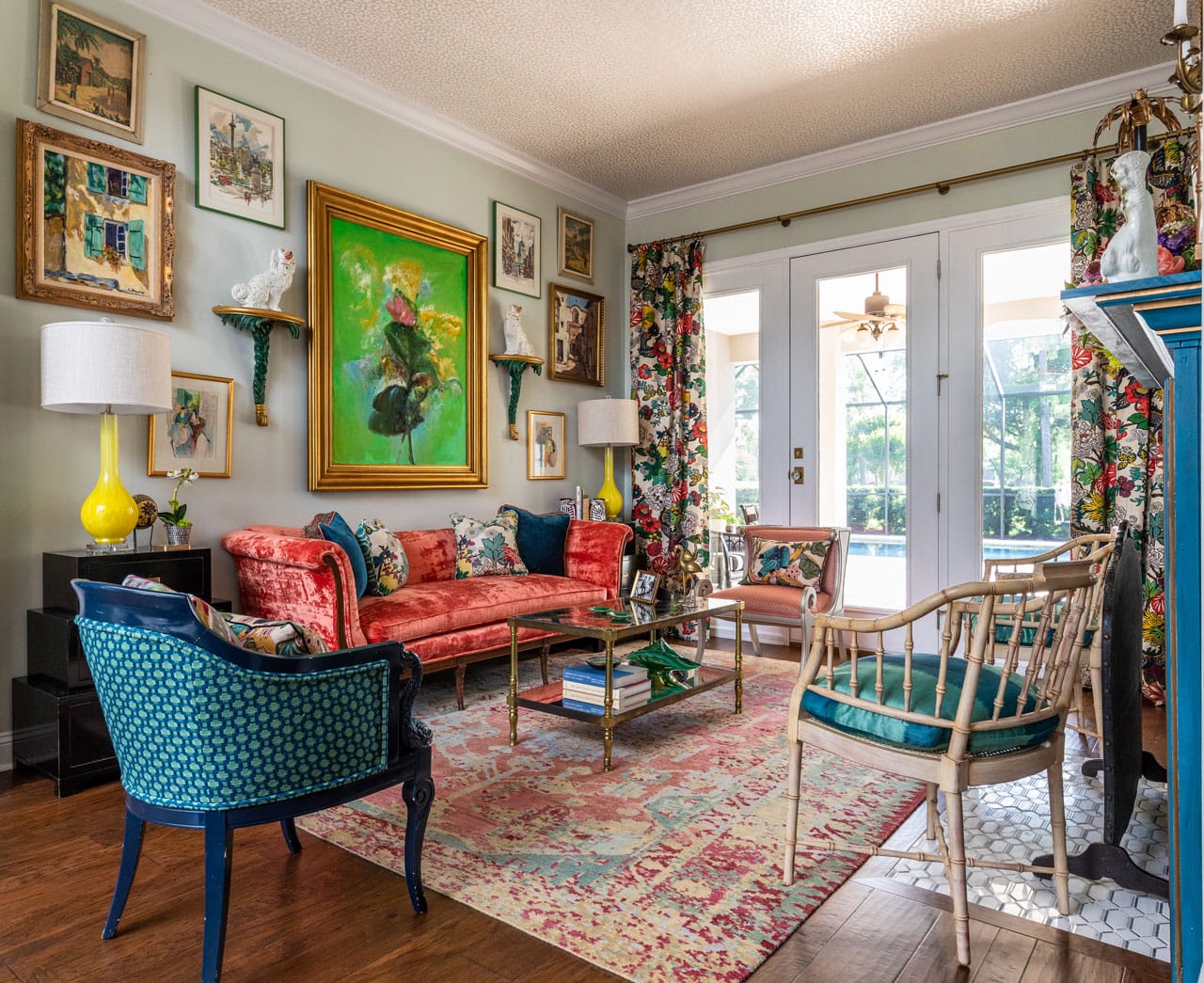 31 May

Melinda's Instagram Takeover!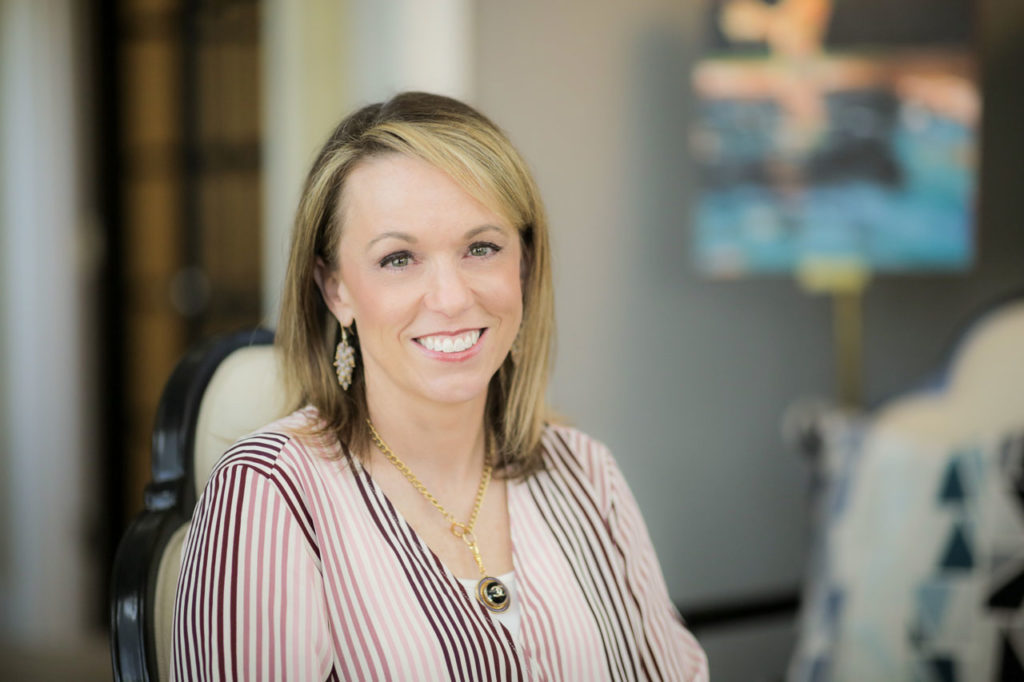 Color? Check!
Pattern? Check!
Layers? Check!
I am Melinda Howell and this month I am taking over our Studio M. Instagram postings to talk a little bit about what makes my designer heart flutter! I have been an interior designer for 17 years and have always had a passion for residential design that brings character and uniqueness to a client's home. My favorite way to achieve this aesthetic is by using vintage and antique pieces, estate sale finds, and giving existing items new life! One of my favorite quotes by one of my favorite designers, Dorothy Draper (@dorothydraperco), is "…collect your pieces separately – generally cheaper and always the decorator's way of furnishing."
Stay tuned over the next few weeks, and I will show you examples of how I have done this in my own home. I hope you enjoy it and please comment and let me know if anything, in particular, speaks to you!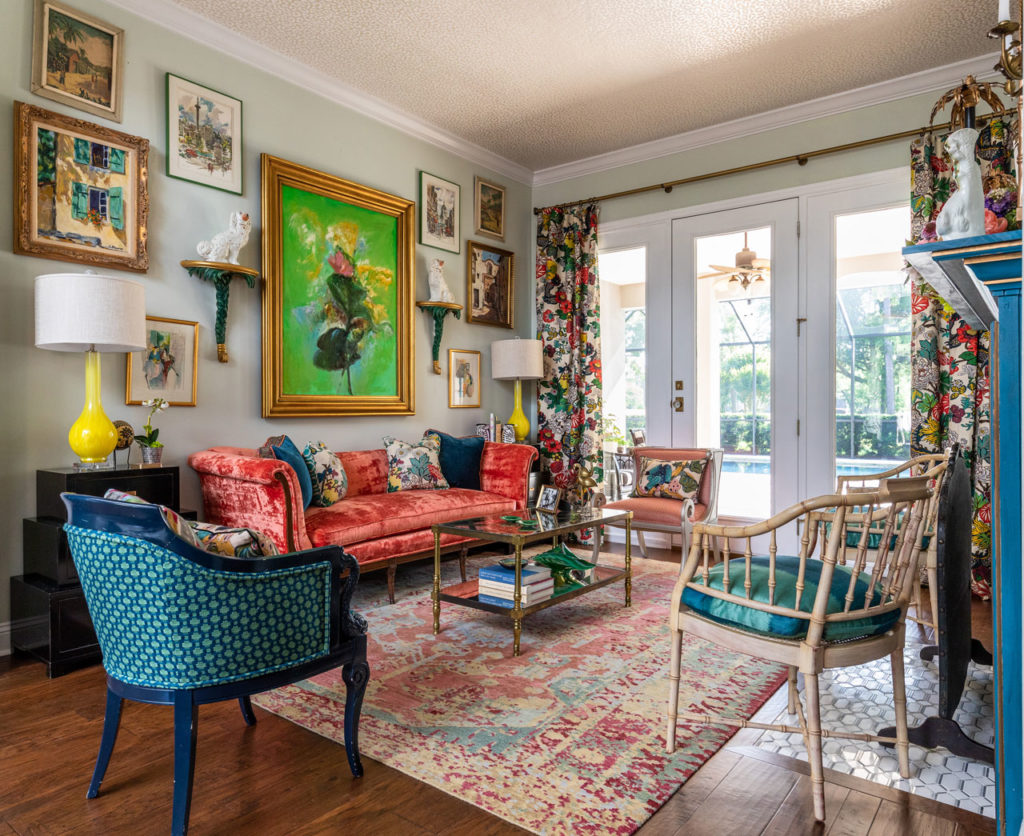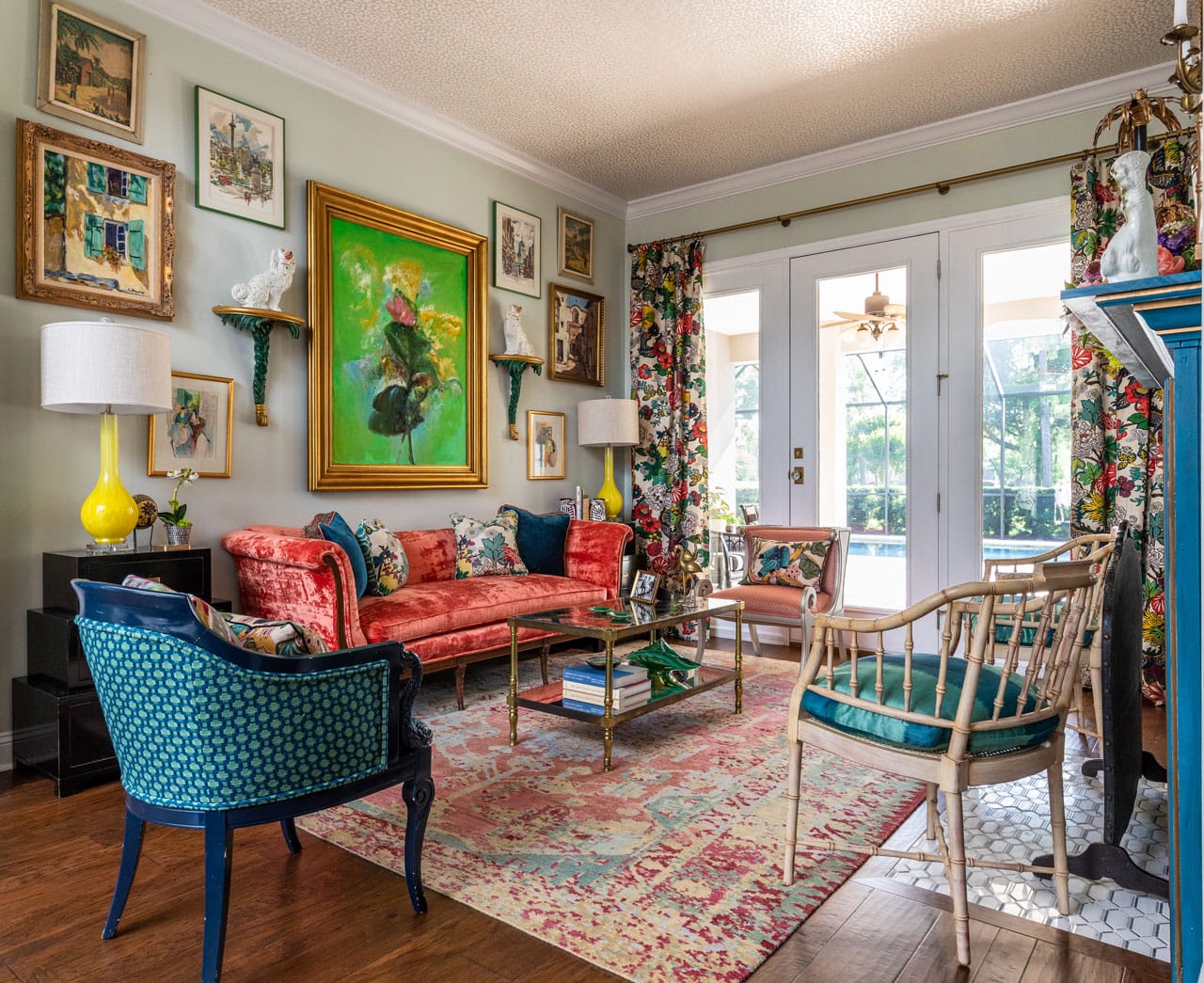 Front and center in this photo is my sweet dog, Bingley. Yes, as in Mr. Bingley from Pride and Prejudice. Not pictured is his brother Fitzwilliam Darcy (aka "Fitz"), also from P&P – are you noticing a theme?? Once you get past that cuteness, you will see one of the first estate sale pieces I ever fell in love with. This sofa has the most beautiful lines and shape and all it needed was a polish to the wood and something unexpected for the upholstery (thank you, coral crushed velvet). Most of the artwork was also found at various estate sales, and the dark blue velvet pillows were a consignment store find! They make a great backdrop for the @schumacher1889 Chiang Mai Dragon pillows for ALL THE COLORS!!!
schumacher1889; #grandmillenial; grandmillenialstyle; #chinoiseriechic; #chinoiserie; #genxtradecor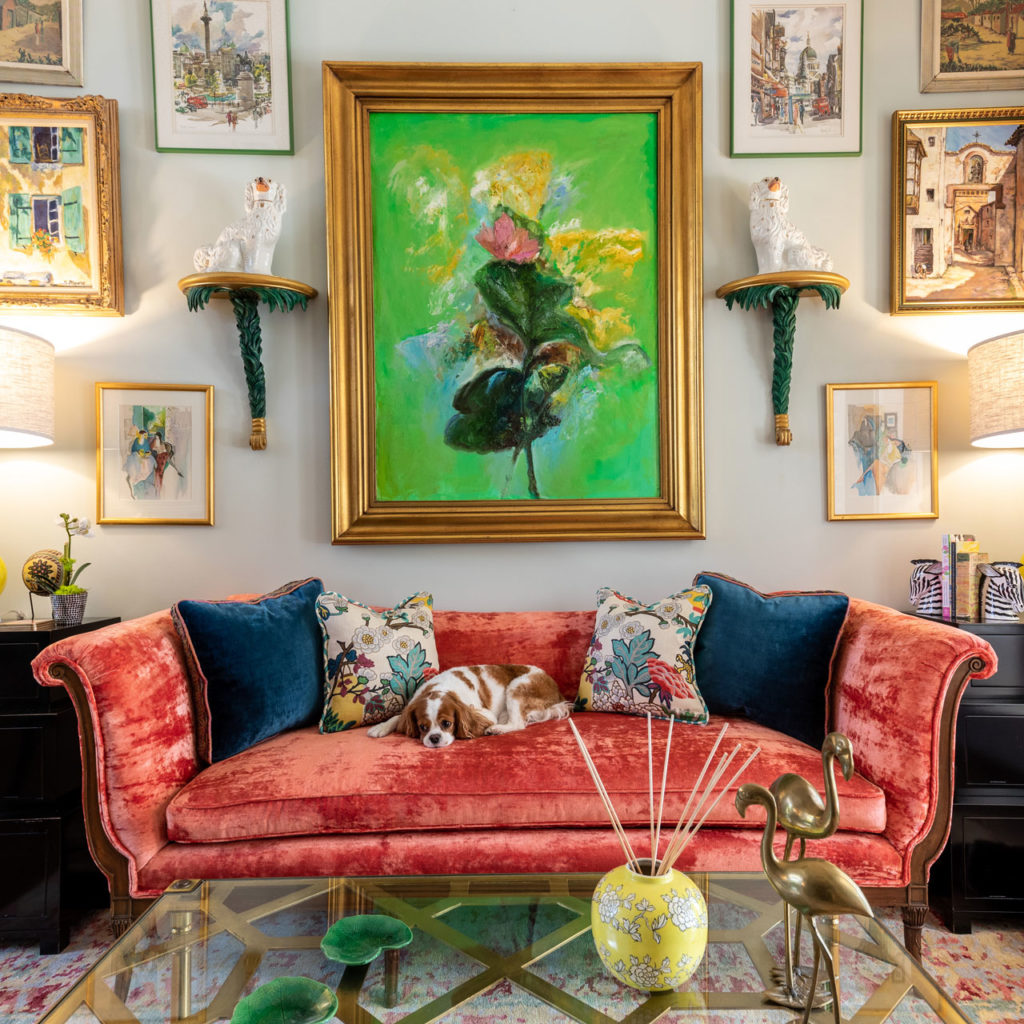 You can see my formal living room right when you walk in the front door, so I wanted it to set the tone for the whole house. By pairing a modern rug from @jafferuggallery, adding blue lacquer paint and @schumacher1889 betwixt fabric to a vintage Hollywood Regency chair, it helps to make this space more up to date. The vintage brass Mastercraft table was a find from the @antiquedesignct in High Point, North Carolina, and I had to bring it home to live with me.
schumacher1889; #grandmillenial; grandmillenialstyle; #chinoiseriechic; #chinoiserie; #genxtradecor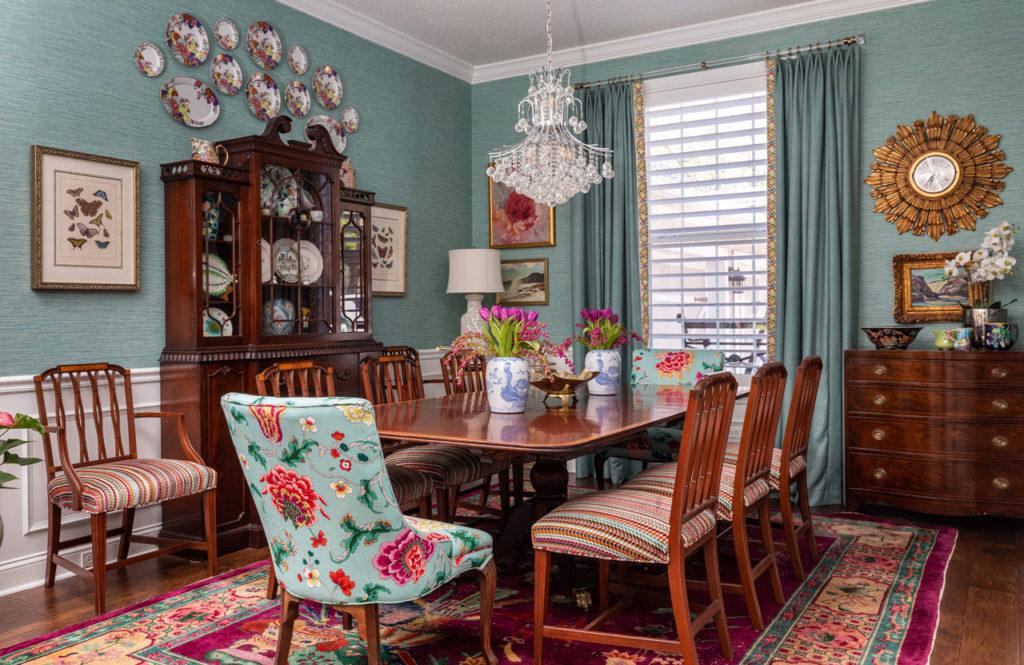 My dining room has taken years to come together, but it was definitely worth the wait! My dining table was found at – you guessed it – an estate sale. It is at least 100 years old and I just fell in love at first sight. Thanks to @ewilliamnash for refinishing her and bringing out her former beauty (we all need a little facial sometimes, right?). Several years later I found the perfect chairs to match the inlay work on the table and added some @brunschwigfils fabrics to them, as well as the host and hostess chairs, to compliment my tobacco leaf plate wall. The trim on my @fabricut drapes is from @samuelandsons and add a pop of color for the win!
#grandmillenial grandmillenialstyle #chinoiseriechic #chinoiserie #genxtradecor #brunschwigandfils #Fabricut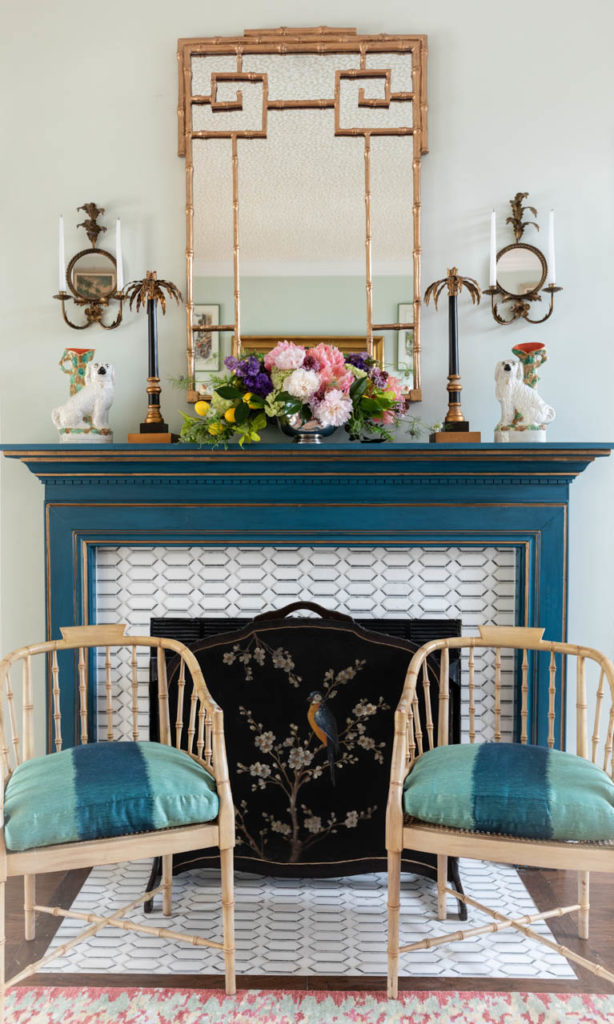 The mantle was my quarantine project last year. It started as white and builder generic. I removed some pieces of trim, and replaced them with different styles, painted a peacock blue, added gold gilding paint from @marthastewart, and finished with an antiquing glaze from @amyhowardhome. The color pops against the more modern tile and provides a perfect backdrop for the chairs, which were a score from a local antique store! I accessorized with a classic silver Revere Bowl, handed down by my husband's grandmother, and had the very talented @glenncertaindesign use his magic to create the stunning centerpiece you see in the middle. The classic faux bamboo mirror, sconces, and Staffordshire dogs all play nicely with the vintage hand-painted fireplace screen I scored from @renningersmountdorafl at one of their Antique Extravaganzas!
Schumacher1889 #grandmillenial grandmillenialstyle #chinoiseriechic #chinoiserie #genxtradecor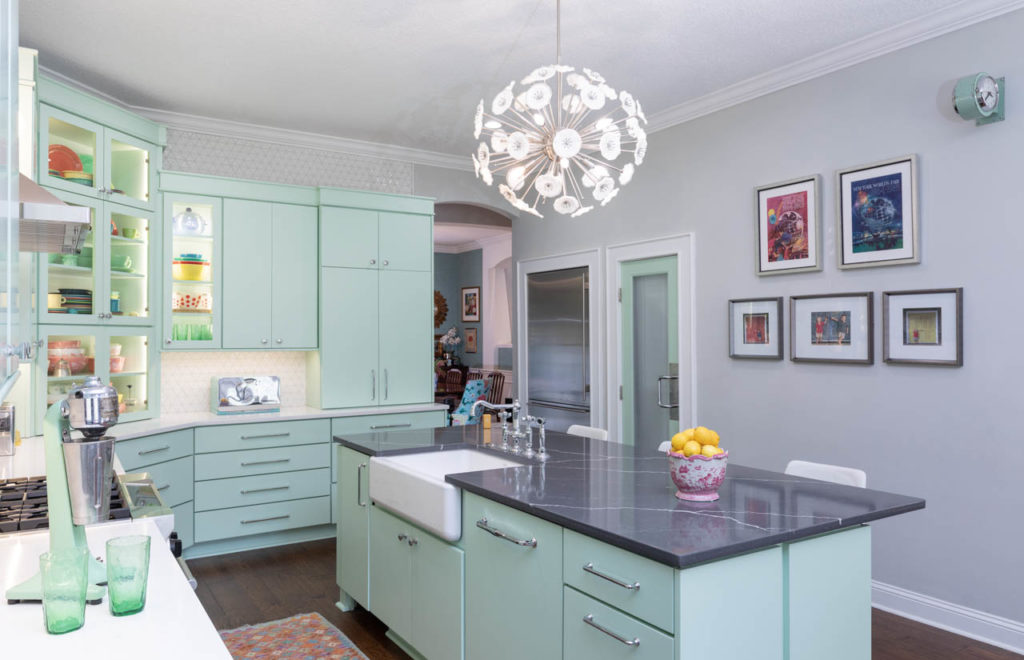 My kitchen always brings me joy, even though I am not the world's best cook ( I can make a mean shells and cheese though!). Inspired totally by the vintage @Hamilton Beach milkshake maker you see here, which was another great find at @renningersmountdorafl. I have always wanted a completely retro kitchen, but I also realized that I could achieve the same feel with modern cabinetry, hardware, and appliances. I knew I needed a space to showcase the things I love, such as my #fiestaware and vintage Pyrex bowls (which I use all the time by the way, so they are not just for show). It took some convincing for my husband and our contractor to get behind the mint green cabinets, but I just knew I was not the girl for an all-white kitchen. The triangle and dot shape of the backsplash, as well as the cute chandelier, were a fun spin on the atomic/sputnik shapes, and overall, I could not be happier! Hardware by @atlashomewares and plumbing by @houseofrohl.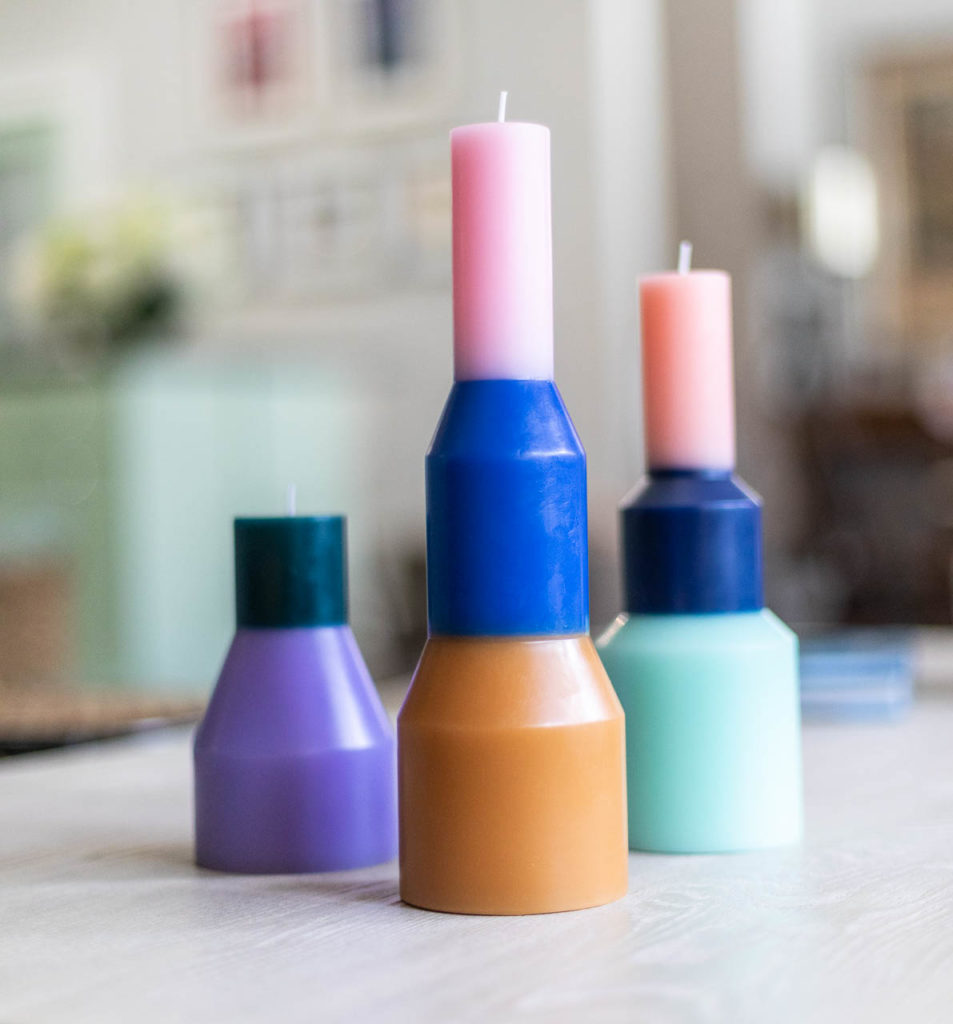 "How far that little candle throws its beams! So shines a good deed in a naughty world." – William Shakespeare
When I saw these Pillar Candles designed by @lexpott for @haycandles, I couldn't decide which one I liked best…so I got all three. The colors, the shapes, and the arrangement all make me so happy every time I see them on my Family Room coffee table! Thanks to @thewritetouch for carrying them so they can bring me joy!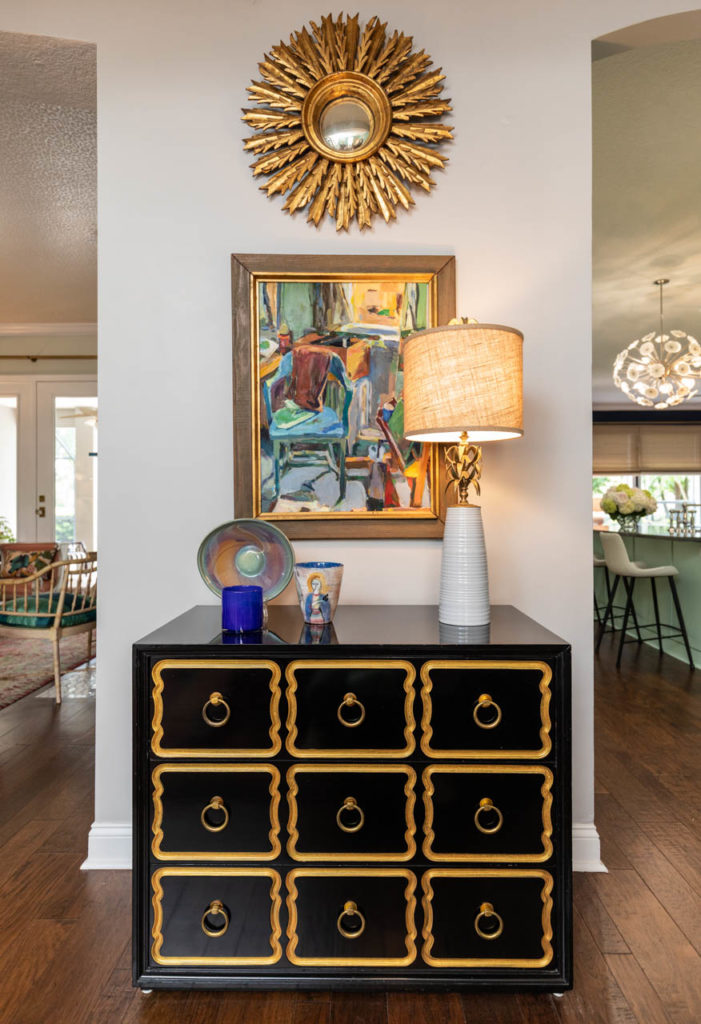 The classic vintage Espana chest by @dorothydraperco is one of my favorite design pieces because it can be used in a surprising variety of settings. I have seen them in different colors, used as nightstands, powder room vanities, end tables in a family room, or as a hall chest like I have in my house. The accessories here have been curated over several years and have come from all over the world. I feel strongly that accessories in your home should reflect who you are and if possible, have a story. This means that it can sometimes take longer to get your pieces, but I feel it is better to have a couple of things that are interesting and unique finds, rather than a lot of generic things. Lamp by @ro_sham_beaux.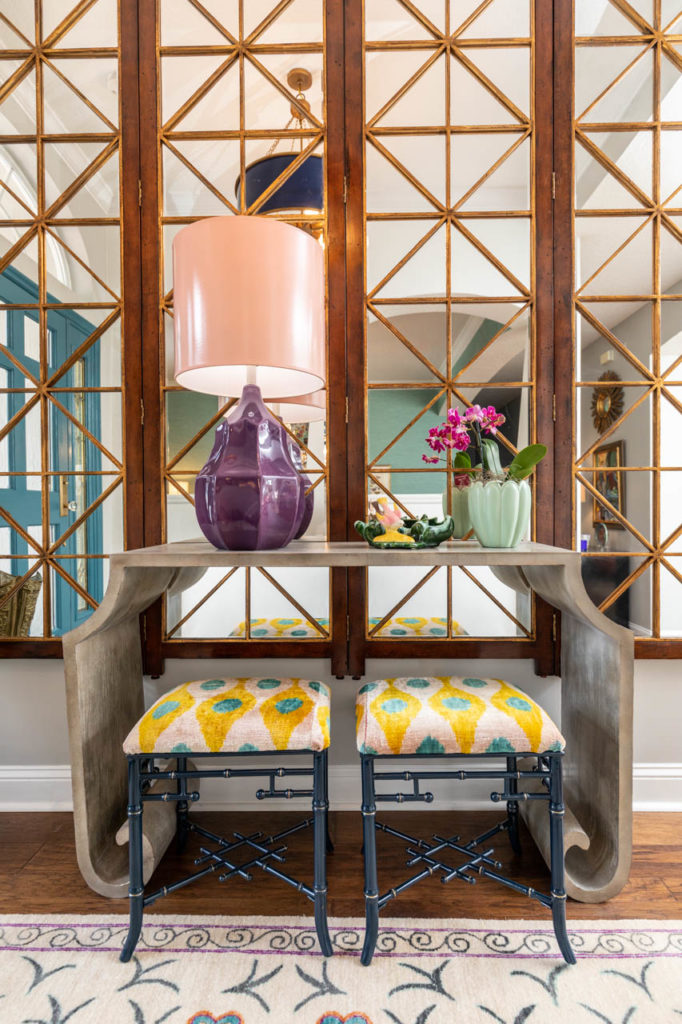 Besides color and pattern, I love to play with shapes and lines. My foyer is an example of that. My sweet husband found this amazing 4-panel room divider at a consignment store and I knew we had the perfect spot for it! We hung it on our wall and it created a wonderful background for the entry vignette. The @uttermostcompany console table is topped with a lamp from @wildwoodhome and vintage pottery pieces. I painted the faux bamboo footstools from @oneofafindcharleston a glossy navy blue and added a touch of gold to the rings to accent the vintage Turkish silk fabric I found at an antique market. It was an easy DIY project that added the punch I was looking for.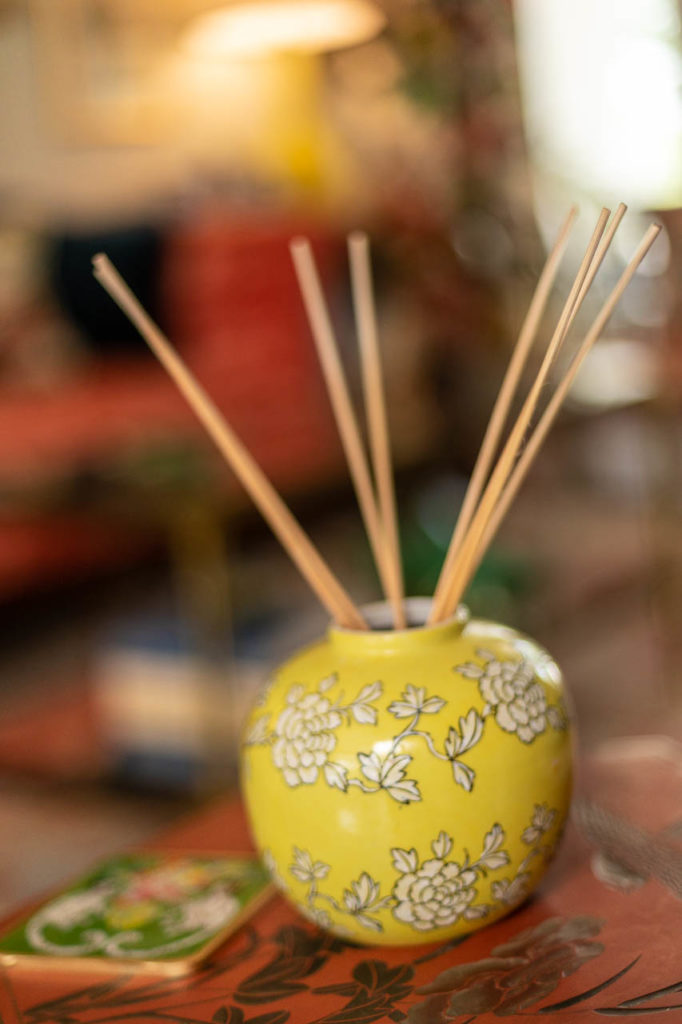 This little ginger jar was missing its lid, so he was having trouble finding a home. I decided all he needed was a new purpose! Not having the lid was just fine with me because it allowed me to use it as a reed diffuser for any of my favorite @nestfragrances scents. Sometimes you just have to look at things a little differently and you will realize they can be useful and beautiful at the same time!
chinoiseriechic #grandmillenial
Black and white cabana stripes are so classic and I love the way you can pair them with so many different things, like these @lillypulitzer pillows. Chairs from @flbackyardjax are beautiful and comfortable and serve as a reminder to #shoplocal whenever possible. Summer is here and you will find me enjoying the #poollife as much as I can!
My final post for this Instagram takeover is a picture of the happiest dancing frogs you have ever seen! A little back story: My kids happened to be with me at an estate sale (teach them young, right??), and they wanted them so badly for our newly finished pool, but unfortunately, someone had already bought them. We were bummed, but I kept them in the back of my mind in case I ever saw another pair. Fast forward 6 months and I found another pair at @renningersmountdorafl Antiques Extravaganza! I snatched them up quickly and brought them home to live by our pool, where they bring us joy every day! I hope you find some joy every day too! Thanks for letting me share a little bit of my world!