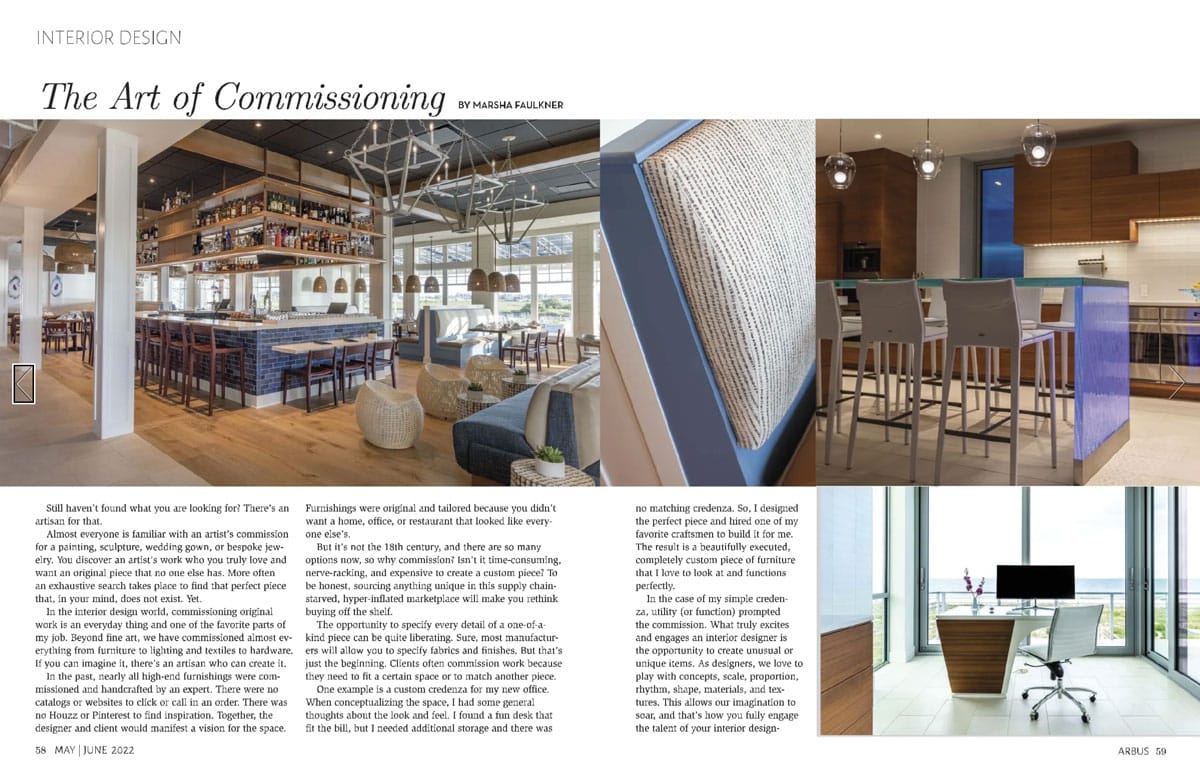 01 Jun

Still haven't found what you are looking for? There's an artisan for that.
For the past few years we've been asked by Cinda Sherman of Arbus magazine in Jacksonville, Florida to pen an article for their annual Art & Architecture issue. Here is our latest article about when and why to commission a piece for your home, office or restaurant.
Most everyone is familiar with an artist's commission for a painting, sculpture, wedding gown, or bespoke jewelry. You discover an artist's work who you truly love and want an original piece that no one else has. More often an exhaustive search takes place to find that perfect piece that, in your mind, does not exist. Yet.
In the interior design world, commissioning original work is an everyday thing and one of the favorite parts of my job. Beyond fine art, we have commissioned almost everything from furniture to lighting, textiles to hardware. If you can imagine it, there's an artisan who can create it.
In the past, nearly all high-end furnishings were commissioned and hand-crafted by an expert. There were no catalogs or websites to click or call in an order. There was no Houzz or Pinterest to find "inspiration." Together, the Designer and client would manifest a vision for the space. Furnishings were original and tailored because you didn't want a home, office, or restaurant that looked like everyone else.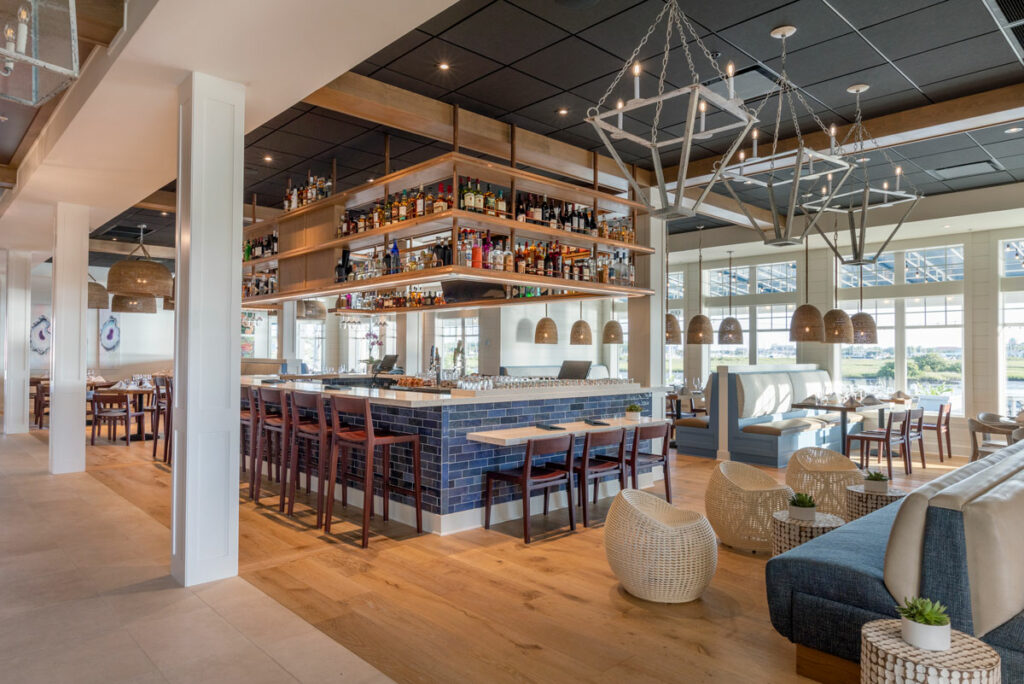 But it's not the 18th century and there are so many options now, so why commission? Isn't it time-consuming, nerve-racking, and expensive to create a custom piece? To be honest, sourcing anything unique in this supply-chain starved, hyper-inflated marketplace will make you rethink buying off the shelf.
The opportunity to specify every detail of a one-of-a-kind piece can be quite liberating. Sure, most manufacturers will allow you to specify fabrics and finishes. But that's just the beginning. Clients often commission work because they need to fit a certain space or to match another piece.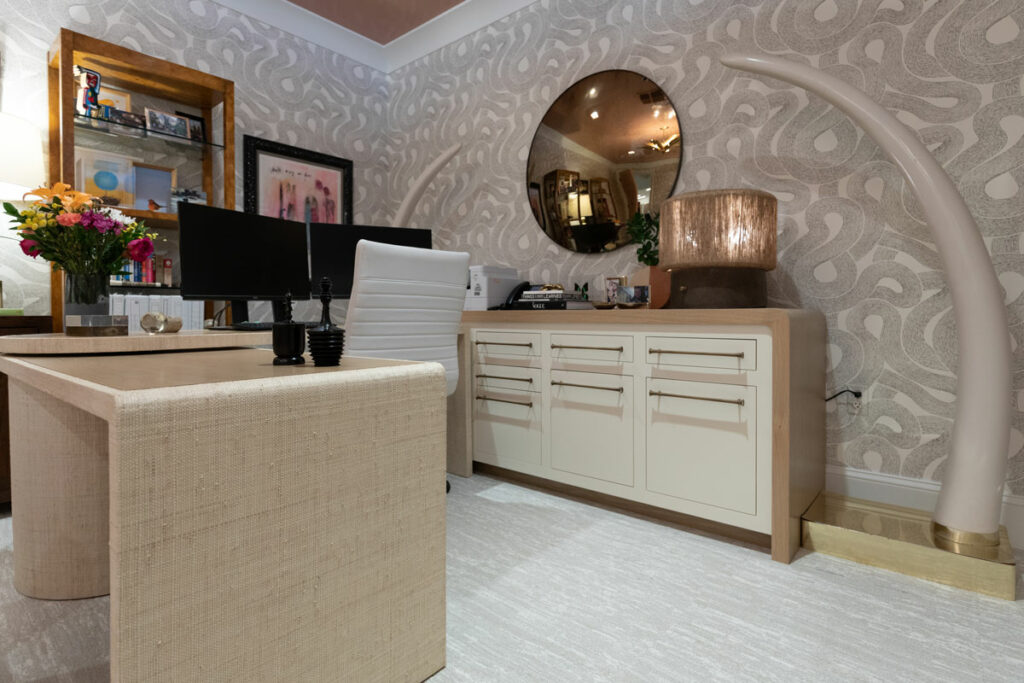 One example is a custom credenza for my new office. When conceptualizing the space, I had some general thoughts about the look and feel. I found a fun desk that fit the bill, but I needed additional storage and there was no matching credenza. So, I designed the perfect piece and hired one of my favorite craftsmen to build it for me. The result is a beautifully executed, completely custom piece of furniture that I love to look at and functions perfectly.
In the case of my simple credenza, utility (or function) prompted the commission. What truly excites and engages an Interior Designer is the opportunity to create unusual or unique items. As Designers, we love to play with concepts, scale, proportions, shapes, materials, and textures. This allows our imagination to soar, and that's how you fully engage the talent of your Interior Designer. After all, that's why you hired a Designer! Right?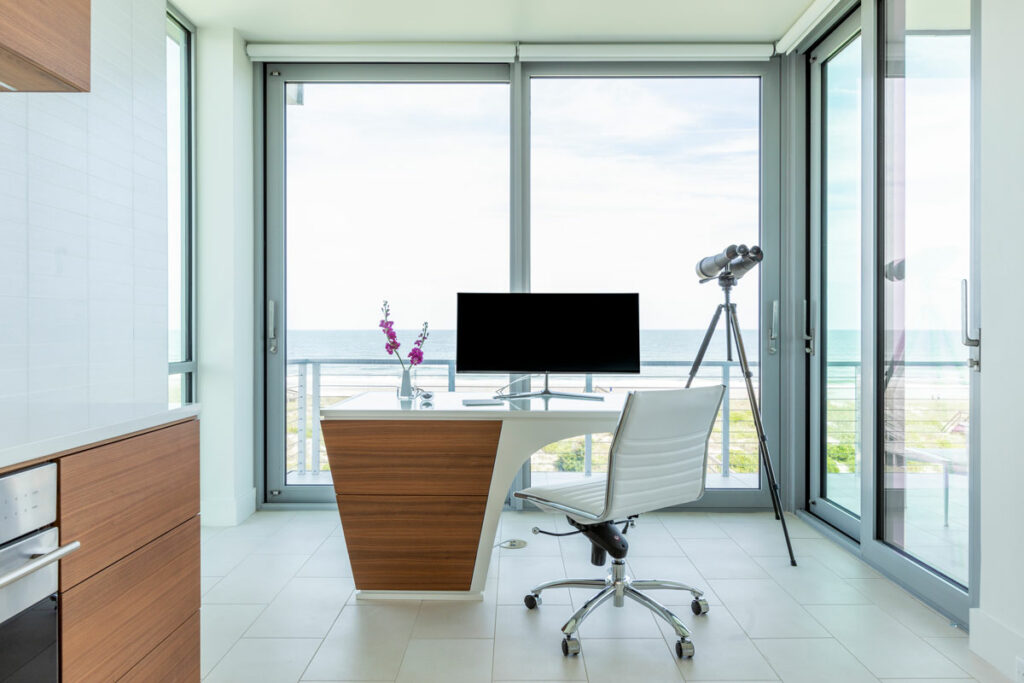 A fair warning. All Designers are not created equal, and some are not inclined to create custom or unique pieces and work with craftsmen to see them built. If that is what you desire for your project then discuss it with your Designer at the beginning of the relationship. Determining goals and compatibility is very important for a successful outcome. We've commissioned hundreds of pieces and our process is born from experience and relationships with talented and trusted craftsmen.
It starts with discovery. What is the purpose of this piece, is it artistic, function, or both? With the reason firmly established, we turn to our sketchbooks, dreams, and emotion. As we get closer to finalizing the design, we create renderings or CAD drawings to get a clear picture of the final product, pricing, and timeframe. Materials, finishes, and requirements are tightly specified. When the vision is fully aligned with the client, then and only then do we engage an artisan to fabricate the finished product.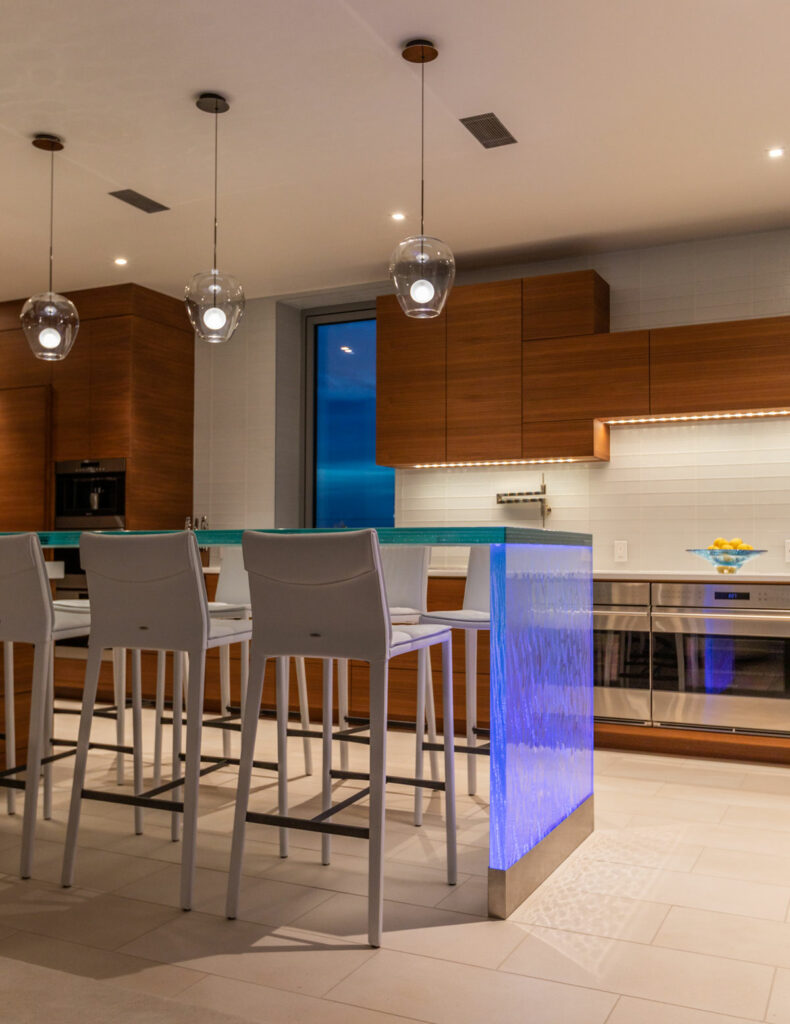 On some occasions, a brave client bypasses this well-honed process and simply says, "Surprise me." Which quite frankly can be terrifying but serves to elevate this Designer to her highest level of creativity and discipline. An ambitious client who is unafraid to take risks and unwilling to accept mediocrity is what we strive for. It motivates us to create our best and highest work. And it is incredibly rewarding to capture that wow factor for a client. To witness the delight of a client who is willing to go the extra mile to make a bold statement in the home or office she loves. That's the payoff.
If you have never commissioned an original piece before, you will never know what could be unless you take that journey. I promise you, it's a fun ride.