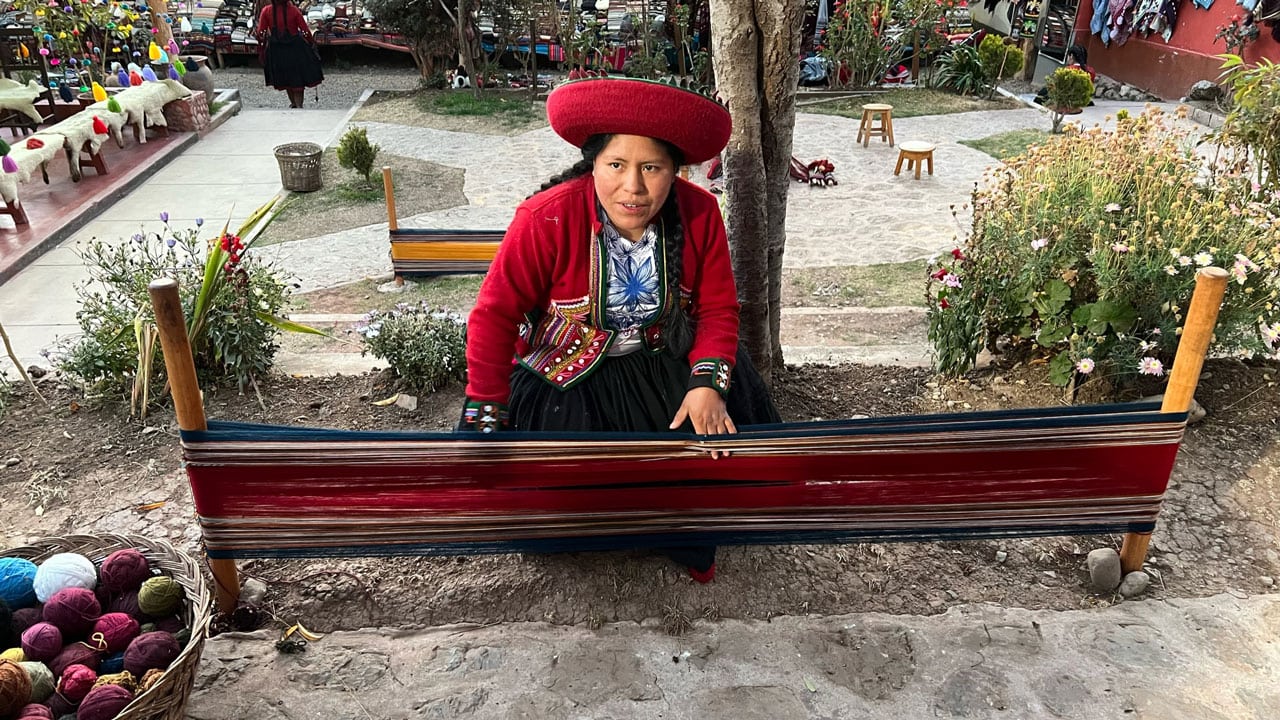 10 Nov

The Power of Travel as a Designer | Hiking to Machu Picchu
By nature, designers are visual people. We take in everything we see, hear, taste and smell. It becomes a part of us, our thinking, and our style. The colors, textures, patterns, and history woven throughout Machu Picchu were inspiring, and I already see how my recent trip to Peru could manifest itself in my work.
Keep scrolling to read more and see pictures from my trip.
Why Machu Picchu?
Since my introduction to Machu Picchu in fifth-grade geography class, I've been fascinated by the area and its vast history. Over the years, I've watched many documentaries about Machu Picchu and the Inca Trail. When the opportunity came along to check it off my bucket list, I said yes.
Machu Picchu is one of South America's most popular tourist destinations, and it's easy to see why with its stunning views of the Andes Mountains, ancient architecture, and rich vegetation.
Three Long Days on the Trail…Our Hike from Cuzco to Machu Picchu.
Accompanied by 14 porters who dutifully carried supplies, tents, water, and food for our group of eight, we walked 30 miles in three days. Our journey started near Cuzco in the Sacred Valley, continued through the Andes Mountains, and ended in Machu Picchu. The highest peak was 13,348 feet above sea level, a stark contrast to what this Floridian is used to!
Although we only saw .1% of the 30,000 miles of old Inca trails, our expedition afforded us a variety of scenery. As we hiked, the views changed from rolling hills with fall-colored grasses to dryer rocky terrain and even lush forests.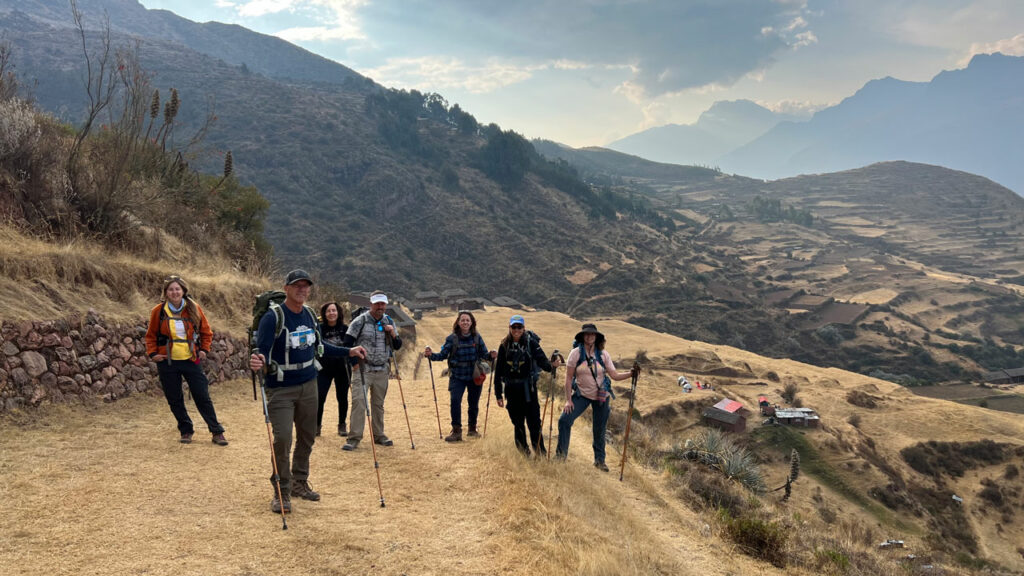 Exploring New Flavors in Peru
If you're planning a trip to Peru, be sure to sample the local cuisine. While visiting Lima, I discovered a popular local drink known as the Pisco Sour. It's made with pisco (a type of brandy), lime juice, simple syrup, Angostura bitters, and egg whites. The drink was invented in 1916, but it wasn't until the 1920's that the bitters and egg whites were added to give it the signature smoky flavor and creamy texture. 100 years later and it's still delightful.
The adventurous diner should explore their standard meat options of guinea pig and alpaca. I tried both because "when in Rome," but I wouldn't choose to eat guinea pigs again. The draw of no cholesterol was negated by its gamey flavor and many small bones to navigate. The alpaca prepared by a restaurant in Ollantaytambo was delicious, but my favorite dishes were vegetarian.
Meat is scarce in Peru, so vegetarian options abound. The local Peruvian cuisine has a heavy Asian influence with lots of rice, soy, and stir fry.
While on the hiking trail, the porters cooked our group breakfast, lunch, and dinner daily. Breakfast included scrambled eggs, breakfast sandwiches, fruits, and even a cake they baked at 12,000 feet! Lunches and dinners were four to five courses with rice and soup, pastries, pizza, and meat dishes. No stale trail mix or Ramen noodles on this trek. We were grateful to have these wonderful Plein air meals carried and prepared by the porters on our three-day trek.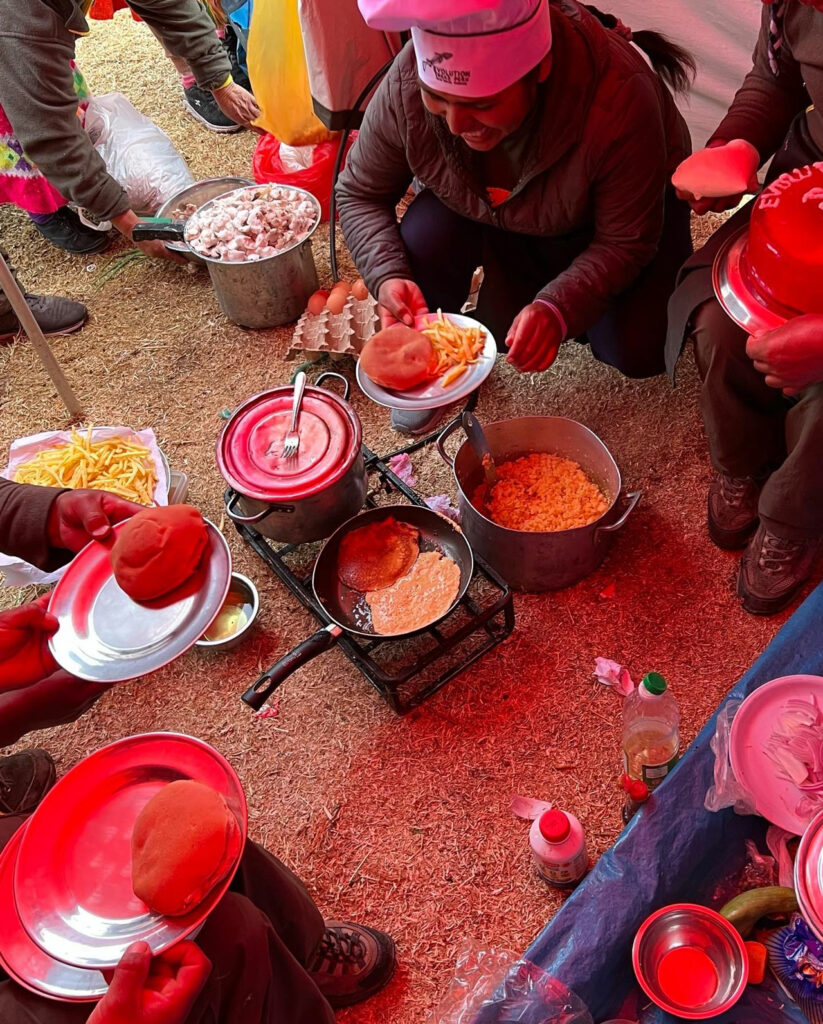 Machu Picchu, an Ancient Architectural Marvel
Travel is an integral influence in my design work and Machu Picchu did not disappoint. The architecture and architectural ruins tell a story about the people, their traditions, and their history. The architecture and construction techniques inspire how we build today and, in some ways, how we design buildings and spaces.
We saw numerous traditional Inca structures that employed such techniques as canted walls and door frames. Double entries into particular rooms signify the rank and position of the people inhabiting those spaces. Homes, businesses, and places of worship were built of stone milled from the mountains, then cut into massive blocks and stacked. The blocks were covered in plaster, and the thatched roofs were made of grasses from the area.
Roots, berries, and other organic materials were used to die their plasters. I was particularly impressed with the artisan's ability to cut these rocks into blocks with laser-like precision. I learned that buildings constructed with precisely cut blocks were regulated to a higher class. In this way, one can recognize a common building, typically built from organically shaped stones, from one built for a noble family.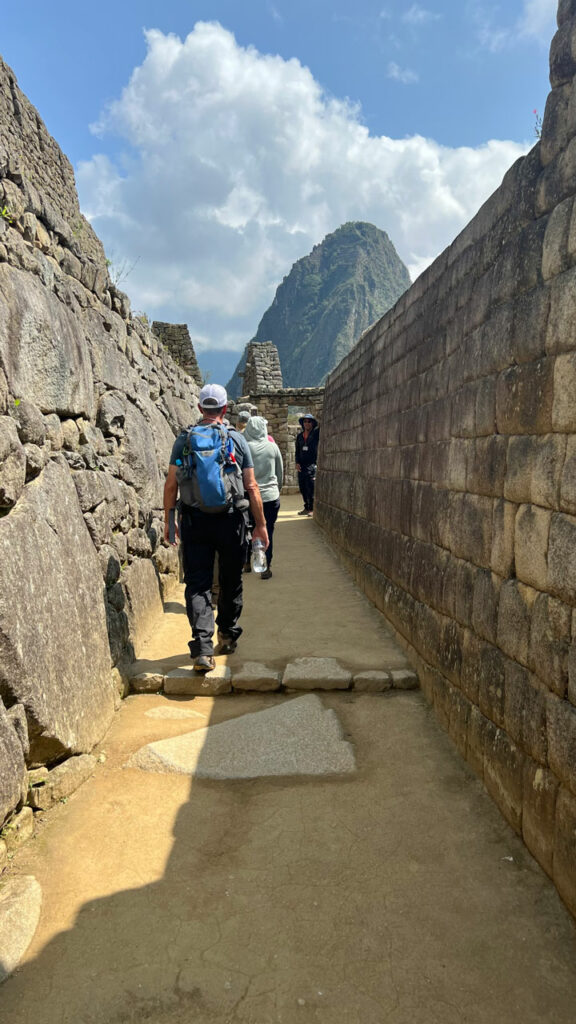 The architecture and construction techniques used by the Inca people are impressive and have made a lasting impact on my design aesthetic. Machu Picchu is a marvel in itself.
A Love for Color
One thing I have in common with Peruvians is a love of color. Some Peruvian women still dress in the traditional style of big, brightly colored, flowy skirts that tell a story about where they are from.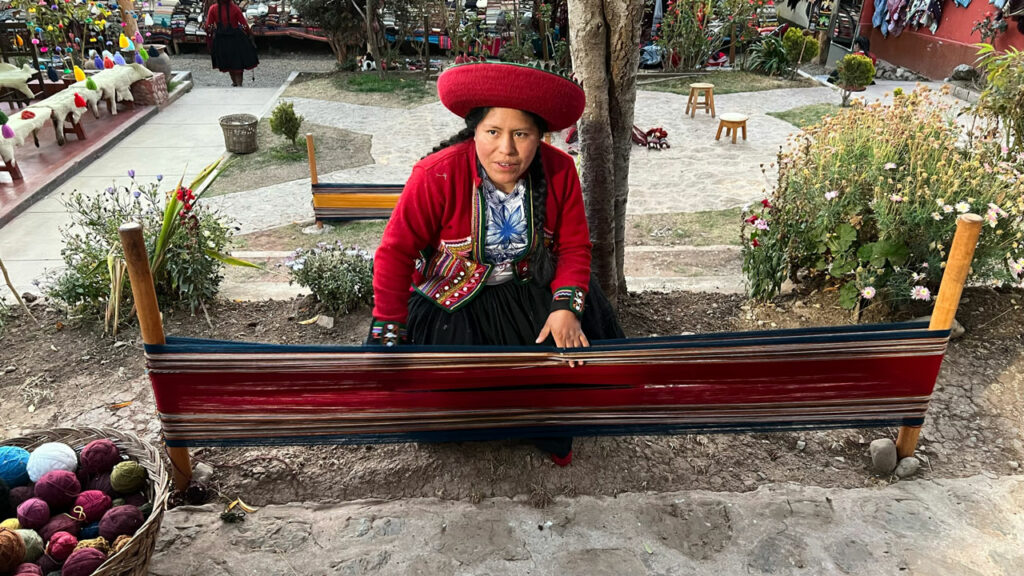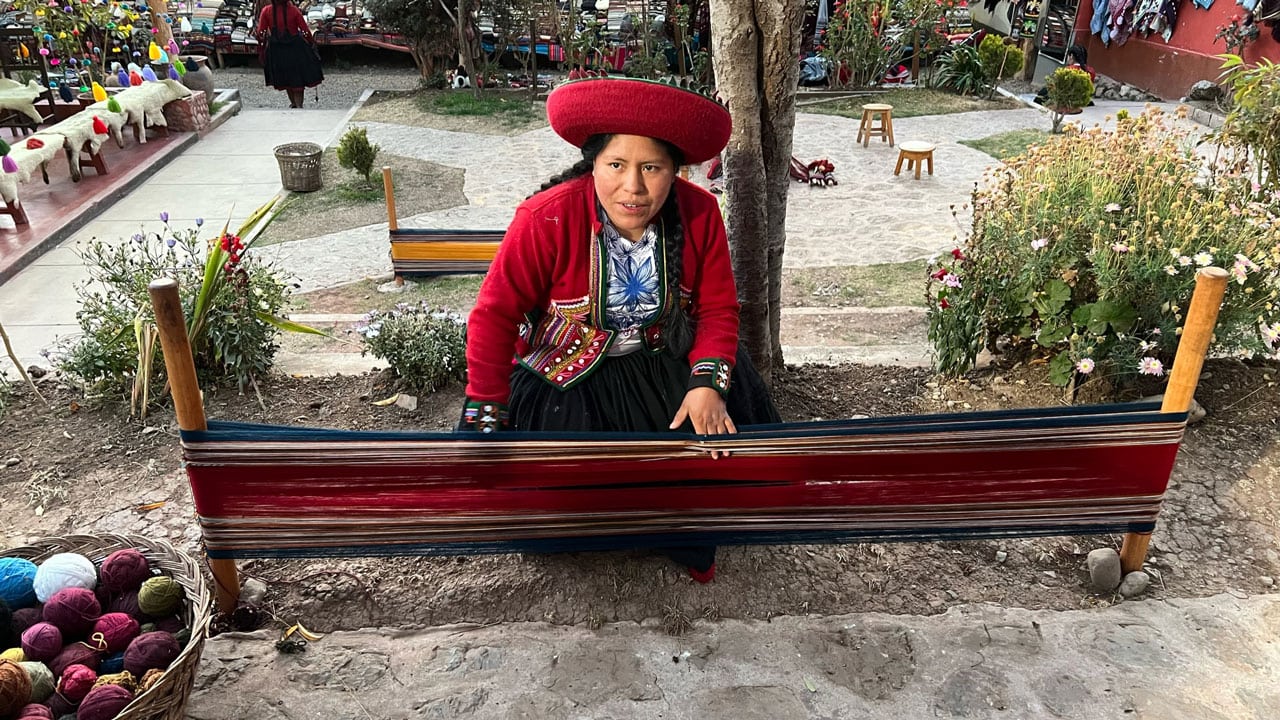 Traditional textiles are created by shearing local alpacas and llamas and dying methods for the wool. This is paired with modern methods for making and selling textiles.
Peruvian women make and wear hats that tell a story. If you see a girl wearing a hat with flowers, it means she is single. Married women wear unadorned hats.
Sightseeing, Churches & the Arts
We were fortunate to spend a day in Cuzco visiting art galleries, churches, a museum, and a jewelry studio. The same beautiful colors and patterns in the textiles and local fashion are apparent in the local artwork and jewelry designs. And I may have brought home a few of these treasures for my personal collections. 
The strong Spanish influence is evident in the museums and churches of Peru. When the Spaniards arrived in the 15th century, they brought their religion, architecture, design styles, and artworks. We visited stunning Spanish Catholic cathedrals adorned with masterful paintings framed in heavily carved and gilded frames.
My favorite church was one we visited in Lima, which was built around the time the Spanish arrived in Peru. It was completely framed and built of wood – even the barrel-vaulted ceiling of the Nave. Vaulted ceilings were framed out with tongue and groove boards.
Since it rarely rains and is a primarily dry climate, these wood structures do more than survive – they thrive. This church is a pristine example of how 15th-century architects and builders employed their craft.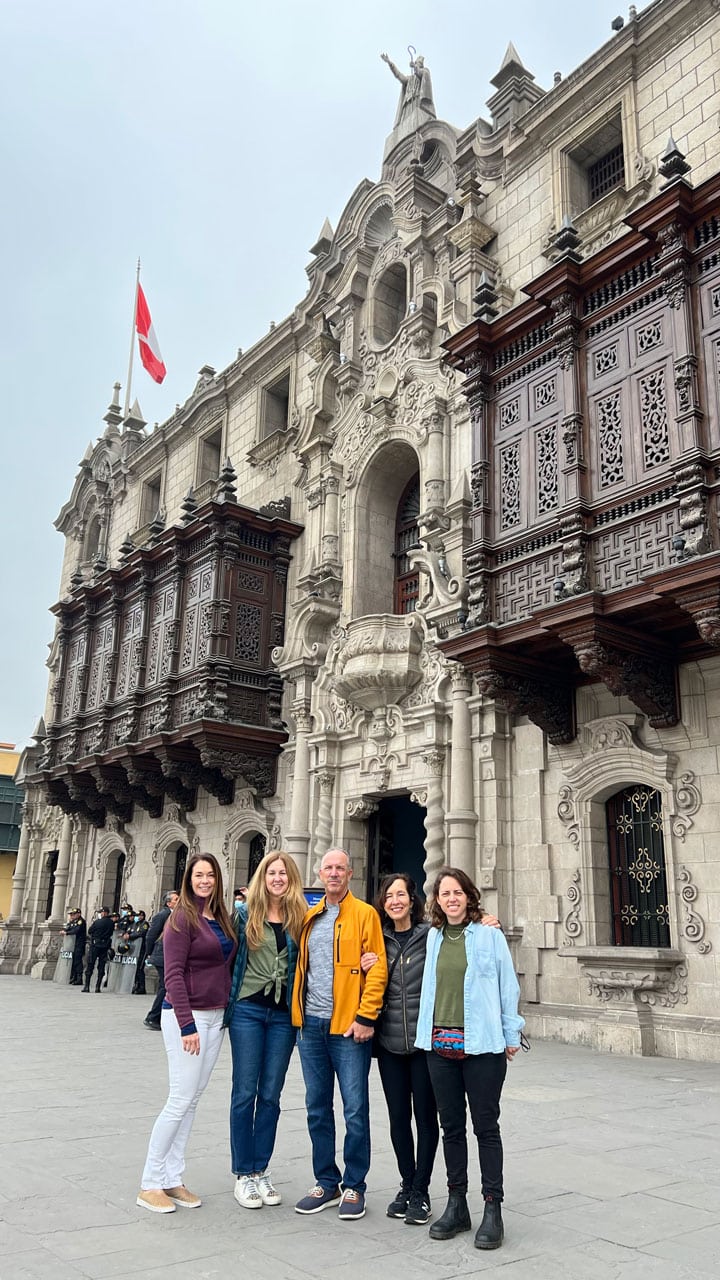 Animals in Peru
Most domesticated animals were used for utilitarian purposes such as transporting goods or providing food. However, some animals were considered sacred and played important roles in religious ceremonies and rituals.
The ancient Incas revered three animals as part of their spiritual walk: the Alpaca which represents the spirit on the earth, the serpent which represents the spirit below the earth, and the condor which represents the spirit in the heavens. These symbols are commonly seen in art and textiles throughout their culture today.
Bulls are another animal cherished by the people of Peru. They symbolize prosperity, and many Peruvians place them on rooftops to invite prosperity into their homes. Bulls are depicted in artwork and statues everywhere throughout modern Peru.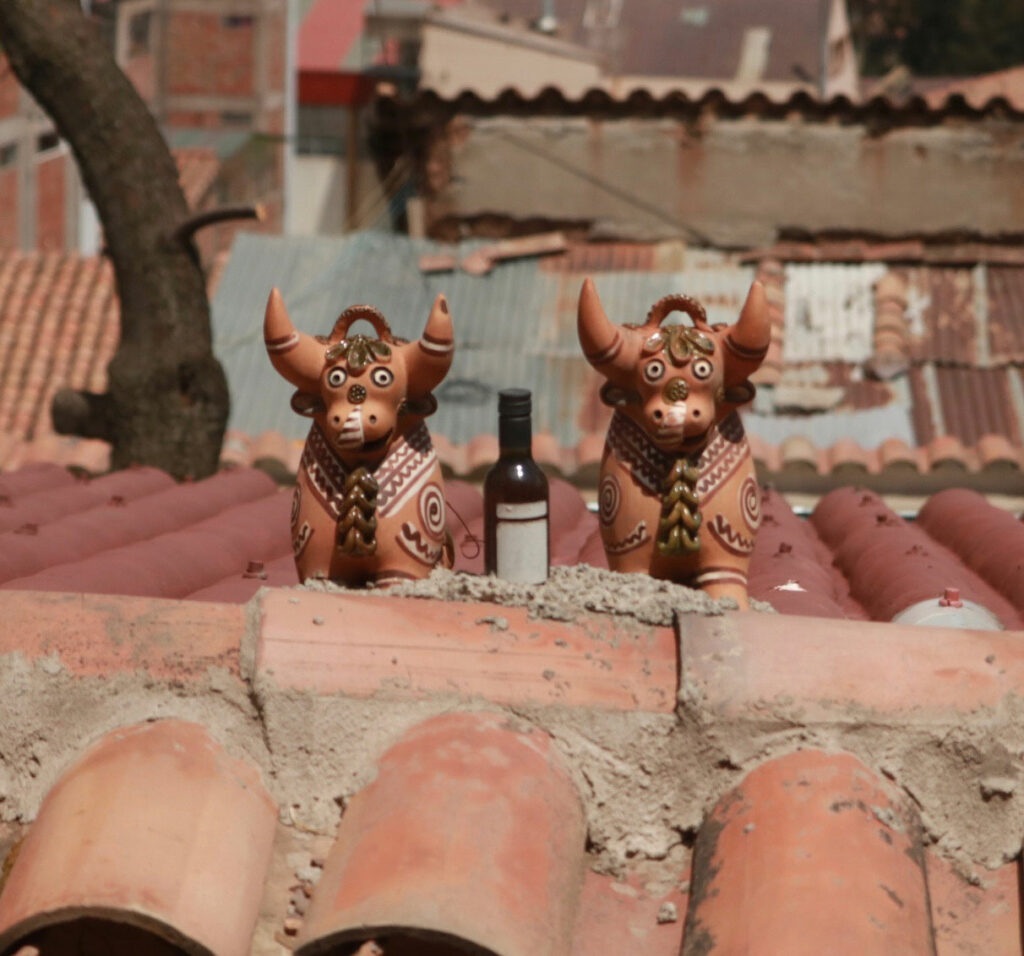 Machu Picchu: An Architectural Wonder
My trip to Peru in one word. Unforgettable. Much like the architecture and culture of Peru, it was a beautiful blend of ancient traditions and modernity. The color, art, and spirit left a lasting impression on me, and I suspect this will not be my last trip to South America.